Wayne's World Web [ Home / WW1 / WW2 / Theme / Cast members / Lexique / Music / SNL / Sounds / Links / Mail ]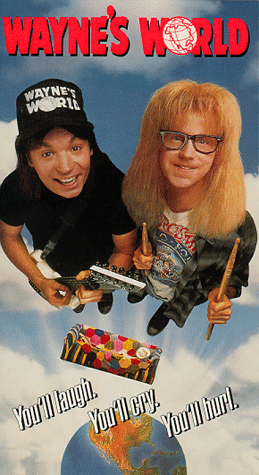 You'll laugh. You'll cry. You'll hurl.
Wayne's World (1992) - Produced by Paramount Pictures

In the tradition of "The Ten Commandments", "Lawrence Of Arabia" and "Ghandi" comes a sweeping screen epic bursting with spectacle and drama...NOT! It's Wayne's World, the hilarious, party-down movie of the century, featering rockin' tunes, radical babes, and your most excellent hosts, Wayne Campbell (Mike Myers) and Garth Algar (Dana Carvey). When Benjamin Oliver (Rob Lowe), a sleazy TV exec, offers Wayne and Garth a fat contract to tape their late night cable-acces show at his network, the two can't believe their good fortune ("No way," "way!"). But they soon discover the road from basement to big time is a gnarly one, fraught with danger, temptation, and ragin' party opportunities. Can Wayne win the affections of rock goddess Cassandra (Tia Carrere)? Will Garth get dunked by his dream girl (Donna Dixon) at the donut shop? Serious questions, dude, and there's only one way to find out- watch Wayne's World!

Special guest appearance by Alice Cooper
The Internet Movie Database (IMDB) - Wayne's World (1992)

Cassandra (Tia Carrere) :
Je vous ai dit : "c'est ma nana",
vous avez dit : "c'est pas vrai !"
j'ai répondu : "vrai !",
alors vous avez dit : "c'est paaaaaas vraiiiiiii ",
et j'ai dit : "vraiiiiiii".
Vous imaginez les régressions infinies par ou on est passé
Cha-Wingue
IMDB / Yah oo! / Tia Carrere Page
Stacy (Lara Flynn Boyle) :
Mon ex, psychologie de bète primaire et vif attachement sexuel à ma personne, la pauvre créature.
Quand j'y pense, je me sens un peu responsable de son coté maniaco-depressif.
IMDB / Lara Page



Benjamin Oliver (Rob Lowe) :
Excellent cadre a la télévision, élégant, trop parfaitement honnète pour que je lui fasse confiance avec ma nana, mon show, ma vie et le reste ?... Non mais !
IMDB / Yahoo!
Une Nana de Reve (Donna Dixon) :
C'est une créature de reve, elle bosse dans un fast-food, elle sert des donuts... et voila, je crois que Garth est tombé amoureux !
Cha-Wingue
IMDB
Glen (Ed O'Neill) :
Il dirige de main de fer la boite à donuts ou la nana dont rêve Garth travaille.
Une boite ou il n'y a que du top-bon pour l'estomac.
IMDB
T1000 (Robert Patrick) :
Un flic arrete Wayne... y'a pas de quoi avoir peur... sauf si ce flic est le T1000
IMDB / Robert Patrick Page
Tiny (Meat Loaf) :
Il joue mais il ne chante pas...
IMDB / Yahoo!
---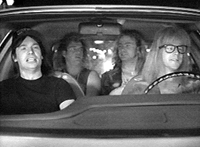 Mama mia, let me go !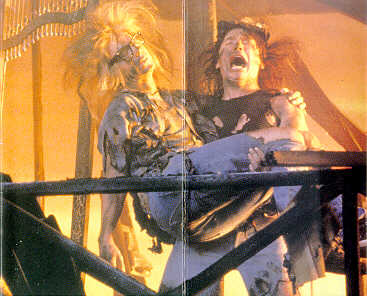 The End ?
---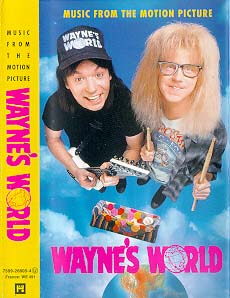 La Musique dans Wayne's World
Wayne's World Soundtrack (CD 926805

1992)
---
Les Sponsors de Wayne's World
Wayne et Garth ne sont pas du genre a se laisser acheter...
Aucunes chances de les voir faire de la pub à

, à

ou à

!
---
Mon adresse E-mail est : wayne.s.world_NO_SPAM@free.fr
---